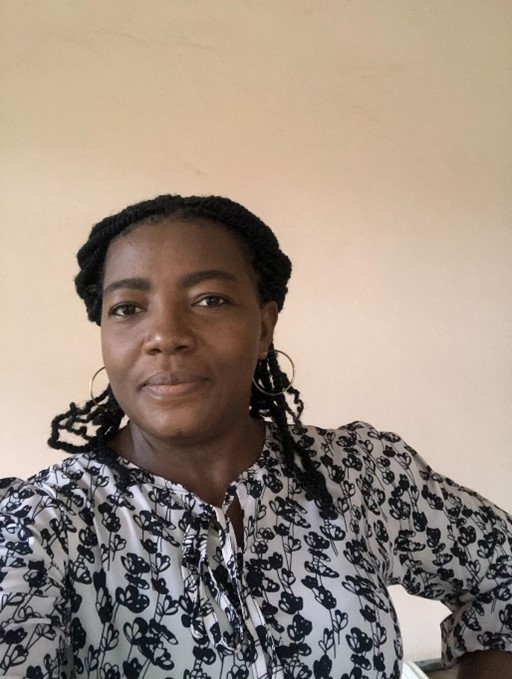 Ms. Doreen Dela Owusu-Ntumy, Research Scientist Email: ddowusu-ntumy@csir.org.gh/ddntumy@gmail.com

Office: ARI Room 8

Degrees: B. Sc (KNUST, Kumasi, Ghana); Post. Cert. (GIMPA, Ghana); M. Phil (UG, Legon, Ghana)

ACHIEVEMENTS
Research Staff Association-CSIR, Ghana
RESEARCH
Microbiology
Molecular Microbiology
Anti-microbial resistance in livestock associated bacteria
Zoonosis
Anti-microbial resistance in bacteria isolated from micro-livestock species.
Eimeria infestation and control strategies on commercial rabbit farms in Ghana.
Health hazards associated with disposal of poultry litter in Ghana.
Modernising Agriculture in Ghana (MAG)-development of intervention strategies for the control of Eimeria infestation (coccidiosis) in rabbits in Ghana.
BRIEF PROFILE
Ms. Doreen Dela Owusu-Ntumy is a Research Scientist of the Council for Scientific and Industrial Research-Animal Research Institute, Ghana. She holds a Bachelor of Science in Biological Sciences from the Kwame Nkrumah University of Science and Technology, Kumasi, Ghana and a Master of Philosophy in Animal Science, with specialisation in Microbiology and Immunology from the University of Ghana, Legon. Her research interest covers areas such as molecular microbiology, epidemiology of diseases that significantly reduce productivity in small and micro-livestock, anti-microbial resistance and zoonosis. Doreen enjoys training tertiary students in molecular biology and other laboratory techniques. She has trained tens of such students coming from major public universities in Ghana since 2009
PUBLICATIONS
List of current publications (Peer-reviewed)
Ayim-Akonor, M., Owusu-Ntumy, D. D., Ohene-Asa, H. E., Oduro-Abrokwa, A., Hammond, P., Appenteng, M. and Annan, D. (2018). Serological and molecular surveillance of Infectious Bronchitis Virus infection in free-range chickens and guinea fowls in the Ga-East District of Ghana. Journal of Veterinary Medicine; Volume 2018??, Article ID 4949580, 6 pages.


Ayim-Akonor, M., Obese, F. Y., Arthur, C., Owusu-Ntumy, D. D. and Otsyina, H. R. (2014). Molecular detection and differentiation of Peste des Petits Ruminant virus and Rinderpest virus in sheep and goats with PPR-like symptoms in Dangme West District of Ghana. International Journal of Current Research and Academic Review, 2(6):197-205.


Obese, F. Y., Damptey, J. K., Aboagye, G. S., Ayizanga, R. A. and Owusu-Ntumy, D. (2012) Relationships between body condition score, milk yield, insulinlike growth factor-I concentration and resumption of ovarian activity in beef cows. Bulletin of Animal Health and Production in Africa; 60:445-452.


Ayim, M., Asafu-Adjaye, A., Beckley, C., Adu-Aboagye, G., Owusu-Ntumy, D. D., Baryeh, K., Arthur, C. and Ogbetey, K. (2012) Serological survey of Mycoplasma gallisepticum infection in layer chickens in the Ga-east District of the greater Accra region. Journal of the Ghana Science Association; 14(1):22-29.
BACK TO PROFILES
2020 © Copyright. Animal Research Institute. All rights reserved.