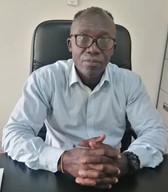 Professor Paul Amponsah Wallace is presently the Deputy Director of Council for Scientific and Industrial Research–Animal Research Institute (CSIR-ARI). Prof. Wallace holds a PhD in Animal Nutrition and Feed Science from South China Agricultural University, Guangzhou, P. R. China, Master of Philosophy (M. Phil; Biochemistry) and B. Sc (Hons.) Biochemistry both from Kwame Nkrumah University of Science and Technology (KNUST), Kumasi, Ghana.
Prof. Wallace has worked with diligence, honesty and professionalism for the past 26 years that he has been in the employ of CSIR. He joined the CSIR-ARI as a Scientific officer in November 1993. Through dint of hard work, diligence and dedication to service, Prof. Wallace was promoted to Senior Research Scientist in 2004. He kept up with the hard work and put himself up and was duly promoted to the position of Principal Research Scientist in 2011. His vision, honesty, persistence and determination led to his application and subsequent promotion to Chief Research Scientist in 2017.
Prof. Wallace has served in various management and administrative capacities within the CSIR system among which includes being the immediate past Acting Director of CSIR-ARI (October 31, 2019) and still the Deputy Director of the Institute. He also served as the head of the 'Intensive Livestock Production Systems division' as well as the 'National Animal Feed Quality Control Laboratory' (NAFQCL). He had earlier served as the quality manager of NAFQCL. He has also served as the CSIR-ARI's representative on the CSIR Guesthouse Management Committee. At various point in time, he served either as the chair or member of various investigative committees instituted to delve into various matters of concern to the Institute.
Prof. Wallace has been principal investigator, project leader as well as active participants of several projects. He has served as member of the editorial board of the Ghana Society of Animal Production. He has been a member of the Institute's editorial and promotion screening committee as well as reviewer of the Institute's annual report for many years. Prof. Wallace has actively been entailed particularly in graduate training and education (lecturing, laboratory sessions and thesis supervision among others). He is presently an Associate Professor at the CSIR College of Science and Technology (CCST), ARI Campus. Prof. Wallace has been a dedicated reviewer for several scientific journals over the years among which includes Food Chemistry, Tropical Animal Health and Production, Ghanaian Journal of Agricultural Science, The Journal of Ghana Science Association, Journal of Ghana Society of Animal Production and Ghanaian Journal of Animal Science. Further, he has served as external reviewer for allied institutions for the promotion process of their staff. Over the years, Prof. Wallace has actively participated and played key role in the development of standards for compounded feeds, feed ingredients, antimicrobial resistance and antimicrobial uses in Ghana through the Ghana Standards Authority.He has authored 74 edited journal publications, research and technical reports to his credit.
BACK TO PROFILES