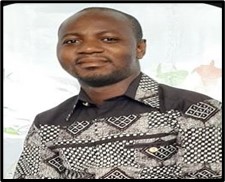 Mr. Kwabena Owusu Ansah
Principal Technologist Email: ojake6@gmail.com

Degrees: BSc Agriculture (KNUST), MSc Animal Nutrition and Management (KNUST)
RESEARCH
Sustainable pasture establishment and management.
Improvement and storage of feed for sustainable dry season feeding of Ruminants.
Exploring nutritional profile of available forages/feed resources for Ruminant feeding.
Methanogenesis and greenhouse gas emissions in ruminant production systems.
Climate change adaptation, mitigation and food security issues.
Feeding management to improve nutrient bioavailability and utilization.
Livestock waste management: recycling and reuse of livestock waste.
Sustainable feed and housing management for Ruminants in the tropics.
The focus of my research has been the effect of various soil amendments of fertilization regimes on the growth and yield responses of maize. This study aims at assessing the regime that is not just capable of producing not just grains, but enough biomass that can be used as animal feeds.
Another study that is currently on-going is the assessment of Animal African trypanosomes and tick-borne parasites co-infection prevalence in cattle at different ecological zones in Greater Accra Region of Ghana. The study will also assess the effect of co-infections on animal cytokine production as there is quite scanty information on co-infection prevalence and their effect on cytokine dynamics in Ghana.
BRIEF PROFILE
Mr. Kwabena Owusu Ansah is a Principal Technologist under the Natural Resource Management and Environmental Health Division of the Council for Scientific and Industrial Research-Animal Research Institute (CSIR-ARI). He holds a Bachelor of Science degree in Agriculture and M. Sc. degree in Animal Nutrition and Management both from Kwame Nkrumah University of Science and Technology, Kumasi, Ghana. His expertise includes ruminant feed technology development, feed improvement and storage strategies for all year round feeding, utilization of available forages or feed resources for ruminant feed supplementation and feeding, livestock waste management (recycling and reuse) and sustainable feed and housing management for ruminant livestock. He has been engaged in a couple of projects and consulted on programmes which haves positively impacted the youth and farmers. Notable amongst them is Modernising Agriculture in Ghana (MAG) Programme and ENABLE under the Rural Enterprise Programme (REP) of the Ministry of Trade and Industry. He serves on the technical committee tasked with setting Ghana standards for Milk and milk products, fresh and probiotic yoghurt, Burkina beverage, Ghana Standards Authority. He currently has 7 publications in manuals and peer-reviewed journals to his credit.
PUBLICATIONS
Ansah, K.O., Antwi, C., Ennin, S., Amoah, S, Osei-Adu, J., Osafo, E.L.K. and Adu-Dapaah, H. (2014). Monitoring the feed intake and growth performance of Small Ruminants in the Atebubu-Amantin District. Ghanaian Journal of Animal Science, 8 (1): 87-93.
Ansah, K.O., Antwi, C., Ennin, S., Osafo, E.L.K. and Adu-Dapaah, H. (2019). Manure characteristics of small ruminants fed agro by-products in the Guinea Savannah Agro-Ecological zone of Ghana. Ghana Jnl. Agric. Sci. 54 (1): 67 – 76. https://dx.doi.org/10.4314/gjas.v54i1.7
Adu-Aboagye G, Nyameasem J K, Ahiagbe K M J, Ansah K O, Zagbede G A and Agbe K K (2020) Reproductive traits of the indigenous Guinea fowl under tropical humid conditions; the effect of egg size. Livestock Research for Rural Development. Volume 32, Article #55. http://www.lrrd.org/lrrd32/4/gadua32055.html
Afedzi-Obresi,S., Adu-Aboagye, G., Nkegbe, E.K., Asuming-bediako, N., Ansah, K.O., Mensah-Bonsu, A., Sarpong, D. B., Amegashie, D.P.K., Kwadzo, G.T-M., Wallace, P.A. and Clottey, V.A. (2020). Black Soldier Fly (Hermitia illucens) Larvae Meal as Alternative Protein in Broiler Production in Ghana. Ghana Jnl Agric. Sci. 55 (1), 1 - 13.


BACK TO PROFILES
2020 © Copyright. Animal Research Institute. All rights reserved.