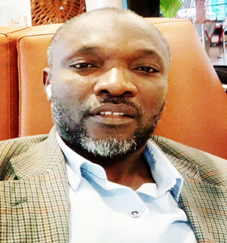 Mr. Vincent Ansah Botchway
Senior Scientific Secretary Email: kingnavy@yahoo.co.uk

Degrees: M. Phil., (UG, Ghana), B. Sc., (UG, Ghana)

Affiliations: Ghana Society of Animal Production (GSAP),
Animal Science Association, Ghana Science Association
RESEARCH
Agricultural production and rural-urban socio-economic studies
Microfinance and Agribusiness development and research
Agricultural project analysis and management
Agricultural Policy, Marketing and impacts studies
Climate Change Agriculture and Food Security studies
Climate Smart Agricultural policy and investments planning
Impact and Adaptation studies in Agro- ecological systems
The research intends to build on the achievements of the Ghana CSA Science-Policy Dialogue Platform in order to meet major developmental needs and also, strategically contribute to emerging policy initiatives proposed by the West Africa Policy project such as the NAIPS, NDCs and attraction of climate-smart agricultural investment. Specifically, the project uses scenario guided process to review the CSA actions in the agricultural component of Ghana's NDCs, NAIPs and CSA action plan document; assist district level CSA platforms in Ghana in the development of eligible and bankable projects to climate finance initiatives such as the GCF. Further, it intends to use evidence=based environmental and food systems research to influence policy formulation, implementation and review and scale up CSA platforms at the district levels to ensure the integration of climate concerns into district level policies and design of plans to increase investment. Existing district multi-stakeholder policy dialogue platforms will be strengthened and technically assisted to lead the science-policy interfaces on climate change and CSA in Ghana. Additional CSA policy dialogue platforms would also be established to ensure wider coverage as well as the integration of climate concerns into district level policies. Monitoring and evaluation systems to track and report on CSA at local level would be instituted to feed into national and sub-regional communication strategies.
Capacitating CSA Science–Policy Dialogue Platforms for sustainable climate change governance and agriculture in Ghana.
Gender and Country CSA Profiling in Ghana.
Mainstreaming CSA into Ghana's Agriculture.
BRIEF PROFILE
Mr. Vincent Ansah Botchway is a Ghanaian who holds an M.Phil. in Agribusiness and B. Sc degree in Agricultural Science. He is currently a Ph.D. student in Agricultural Economics at the University of Cape Coast, Cape Coast, Ghana. He has undertaken courses in animal science, crop science, soil science, agricultural project analysis management and marketing. He is a Senior Scientific Officer with the Council for Scientific and Industrial Research-Animal Research Institute (CSIR-ARI) contributing to its research, technology generation/transfer, commercialization activities and training. He has helped to coordinate and implement many projects under the Ghana Agricultural Sub-sector Improvement Programme (AgSSIP), West African Agricultural Productivity Improvement Programme (WAAPP), among others. He is currently supporting the implementation of the CCAFS, West Africa climate change programmes in Ghana. He is the executive secretary to the Ghana Climate Change Agriculture and Food Security Platform and has assisted in establishing ten (10) districts level Climate Smart Agriculture and Science-Policy Dialogue platforms in Ghana which deal with climate change mitigation. He has also trained these sub-national platforms in managing climate stress incidence, etc. He was a member of a team that supported the development and publication of Ghana Climate Smart Agricultural Action Plan. He is a member of the Sustainable Agricultural Intensification Research and Learning in Africa (SAILA)-Ghana Learning Alliance. He was part of the team that developed an Investment Framework for Mobilization of Resources into Climate Smart Agriculture (CSA) in Ghana which was sponsored by FAO. He has relevant experience in broad stream agricultural research including climate change and food and nutrition security programme implementation in rural communities. He has also assisted in many economic and agribusiness studies including modelling econometric determinants and effect of agricultural diversification among cocoa and food crops farmers in the Western Region of Ghana. He currently serves about ten national committees including the national biodiversity clearing house mechanism hosted by the Ministry of Environment Science, Technology and Innovation. He assisted in the coordination of several workshops including Volta basin integrated management of rainwater for crop-livestock agro- ecosystems (V2), and responding to new opportunities to improve livelihoods for crop- livestock farmers in West Africa. He was a researcher and member of CCAFS Science-Policy Platform in the preparation of the Action Plan of the National Climate-Smart Agriculture and Food Security for the Ministry of Food and Agriculture (MOFA); country profile study on climate smart agriculture practices as well as cost benefit analysis of CSA practices in the Coastal Savannah of Ghana in collaboration with CIAT. He has also assessed value chain segments and gender characterisation studies in Ghana as well as evaluation of gender considerations in CSA practice utilization in selected districts of Ghana. He has also made numerous presentations on CSA both at local and international levels including WBCD CSA and more recently at the NEPAD Africa CSA Alliance Forum in Senegal. Mr. Botchway has received training in gender CSA profiling methodologies, development of agribusiness and Food Processing business Incubation Centres under India-Africa Forum Summit II funded by ICRISAT. He has authored numerous scientific and technical reports.
PUBLICATIONS
Ng'ang'a, S. K., Miller, V., Essegbey, G., Karbo, N., Ansah, V., Nutsukpo, D., Kingsley, S. and Girvetz, E. 2017. Cost and benefit analysis for climate-smart agricultural (CSA) practices in the coastal savannah agro-ecological zone (aez) of Ghana. International Center for Tropical Agriculture CIAT, USAID. Cali.CO. 50 p. A working paper. http://hdl.handle.net/10568/83464


Botchway, V. A., Sam, K. O., Karbo, N., Essegbey, G. O., Nutsukpo, D., Agyemang, K. Zougmore, R. and Partey, S. (2016). Scaling up of CSA Platforms at the Sub-national (district) levels in Ghana: A Progressive Achievement of the Ghana Climate Change Agriculture and Food Security science-policy platform.


Akuffobea, M., Botchway, V. A., Sam, K. O., Karbo, N., Essegbey, G. O., Nutsukpo, D., Zougmore, R. and Partey, S. (2016). Scenario Guided Review of the Ghana Livestock Policy.


Sam, K. O., Botchway, V. A., Karbo, N., Essegbey, G. O., Nutsukpo, D., Akuffobea, M., Zougmore, R. and Partey, S. (2016). Systems and operations of the Ghana science-policy dialogue platform on climate change, agriculture and food security.


Sam, K. O, Botchway, V. A., Karbo, N., (2015). Technologies and Practices of Climate Smart Agricultural Technologies: A Profiling ManualKarbo, N., Sam, K. O., Botchway, V. A., Tortin, E., Traore, P. S. and Zougmore, R. (2015). Formation of Sub-National Level Climate Change Science-Policy Platforms in Northern Ghana: Process Issues, Inclusiveness and Diversity in Leadership Institutions. In Press .


Ansah Botchway, V, Alhasan R. and Fosu K. Y. (2010). Analysis of Ghana's Trade Regimes and the Development of the Poultry Industry during 1970-2000. Proceedings of the 28th and 29th Biennial Conference of the Ghana Animal Science Association. CSIR Animal Research Institute, Accra. August 2010


Ansah Botchway, V. (2010). Demographic characteristics of fresh milk producers in the Kintampo District of Ghana. Proceedings of the 28th and 29th Biennial Conference of the Ghana Animal Science Association. CSIR Animal Research Institute, Accra. August 2010


BACK TO PROFILES
2020 © Copyright. Animal Research Institute. All rights reserved.