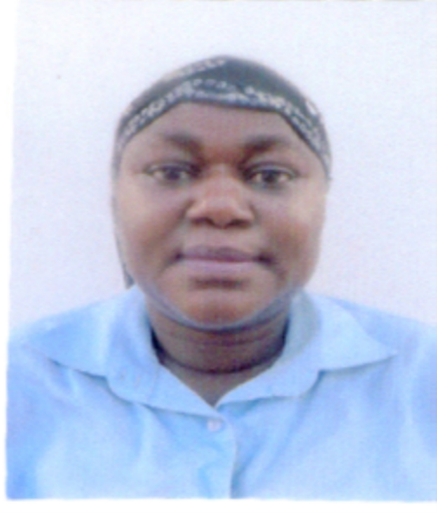 Ms. Lantana Munkaila
Research Scientist Office: Room 28

Email: osaalant@yahoo.com

Degrees: B.Sc(UDS, Ghana) M. Phil (UG, Ghana)


RESEARCH
Practices and earnings of smallholder livestock farmers.
My research interest focuses on practices and profits for small holder farmers who rear sheep/goat and also local poultry. The improvement of these practices will enhance the transformation of the livelihoods of these farmers. Any activity in relation to agriculture specifically, animal production and marketing is of great interest to me
The role of women in agriculture and farm family
I have the interest in the role of women in agriculture and the farm family. Women contribute a lot to the household by their work on the farm as well as in the supplementation of household needs such as food, school fees, clothe and many more. Improving the livelihood of women is also of interest to me because when the livelihoods of women are improved, it translates into the betterment of their children and the family as a whole.
Crop-livestock integration
Conducting research on crop-livestock integration for rural poverty reduction is of key interest to me. This research area helps to ameliorate problems and constraints that beset the sub-sector and create the enabling environment for market-oriented business development. Targeting crop-livestock farmers with special emphasis on women and unemployed youth, as they constitute the largest vulnerable group in our rural setup is essential.
Technology adoption.
Adoption of researched technologies by smallholder farmers is a focus area of interest. This is because barriers exist in the quest to adopt technologies/ innovations developed by scientists for farmers to uptake. Breaking down methods of scientific research terms to the level's farmers will understand will greatly aid in bringing science to their doorstep and also expand their livelihood.
My current research concerns the assessment of the access and adoption of climate smart agricultural technologies (CSAT) on the livelihood of gender in crop-livestock systems in northern Ghana. Most of the small holder farmers we engage with in the course of our research practice mixed crop-livestock or crop-livestock integrated system of farming. This involves the production of crops and rearing of farm animals for socio-economic and cultural reasons. Most of these farmers are already vulnerable and the impact of climate change is making the situations worse. Climate smart agricultural technologies have been developed to mitigate the effects of climate change. However, the adoption of these technologies is based on conditions such as the socio-economic status of the farmer, ease of use and suitability of the technology for a particular farm practice. The objective of the study is to assess the access and adoption of climate smart agricultural technologies on the livelihood of farmers engaged in crop-livestock farming systems. Men and women do not have the same opportunity when it comes to adoption of technologies. This study seeks to investigate the differences that exist in the adoption of these technologies across gender for enhanced adaptation. This will further indicate the differences in coping strategies by gender and will help policy makers to formulate policies that will bridge those gaps. Bridging the disparity gaps across gender in agriculture will improve the livelihoods of all farmers.
An Assessment of the access and adoption of Climate Smart Agricultural Technologies on the livelihood of gender in crop-livestock systems in northern Ghana. This is a PhD research working title.
BRIEF PROFILE
Ms. Lantana Munkaila is a Research Scientist at the CSIR-Animal Research Institute. Currently, she is pursuing a Ph.D at the Agricultural Extension Department, University of Ghana, Legon. She holds a Master of Philosophy degree in Agricultural Extension from the University of Ghana, Legon and a Bachelor of Science degree in Agricultural Technology from the University of Development Studies, Nyankpala, Ghana. She has expertise in participatory research approaches, innovations platform facilitation and research, social learning as well as mixed methods research. She has conducted research into practices and livelihoods of smallholder farms, the role of women in agriculture and farm family. She has also done work related to crop-livestock integration and technology adoption. She is passionate about helping to make the situations of the small holder farmers better through increased production, productivity and profit. She has published in both local and international journals. Ms. Munkaila Lantana is a member of professional associations including the Ghana Society of Animal Production, Ghana Science Association and the Ghana Animal Science Association.
PUBLICATIONS
List of current publications
(peer reviewed)
Teye, G. A., Munkaila, L. and Dei, J. L. (2006). Carcass characteristics of the male and female broiler chicken. Agriculture and Food Science Journal; 5, 363 – 368


Nkegbe, E., Munkaila, L. and Adu-Aboagye, G. ( 2012). Regulation, compliance awareness among farmers in the livestock subsector in sub-surban Accra, Ghana. International Journal of Livestock Research; 2, 1964


Nkegbe E., Munkaila L, and Odum Sam K: Regulation compliance of small holder livestock farmers and herdsmen in the use of acaricides and gastrointestinal anthelmintics in sub-urban Accra, Ghana: international Journal of Diseases and Disorders. Vol.1 (4), pp. 039-044. ISSN 2141-5456


Nkegbe, E., Aikins-Wilson, S., Asuming Bediako, N. and Munkaila, L. (2013). Consumer perception on meat handling in Ghana. Asian Journal of Agricultural Science 1(04): 158-162.


Duncan, J. L., Adjorlolo L.K., Affedzi-Obresi S., Ahiagbe, K. M. J.and Mumkaila, L. (2016). Opportunities and constraints in integrating small ruminants with crop production in crop-livestock systems in southern Ghana. Ghana Journal of Agricultural Science; 50


Shaibu, M. T., Munkaila, L., Kanlisi, R. and Sam, K. O. (2019). Effects of Socio-economic characteristics on livestock production among youth in the Savelugu-Nanton District. Jounal of AScience??? and Food Tecchnology. Accepted for publication.


BACK TO PROFILES
2020 © Copyright. Animal Research Institute. All rights reserved.